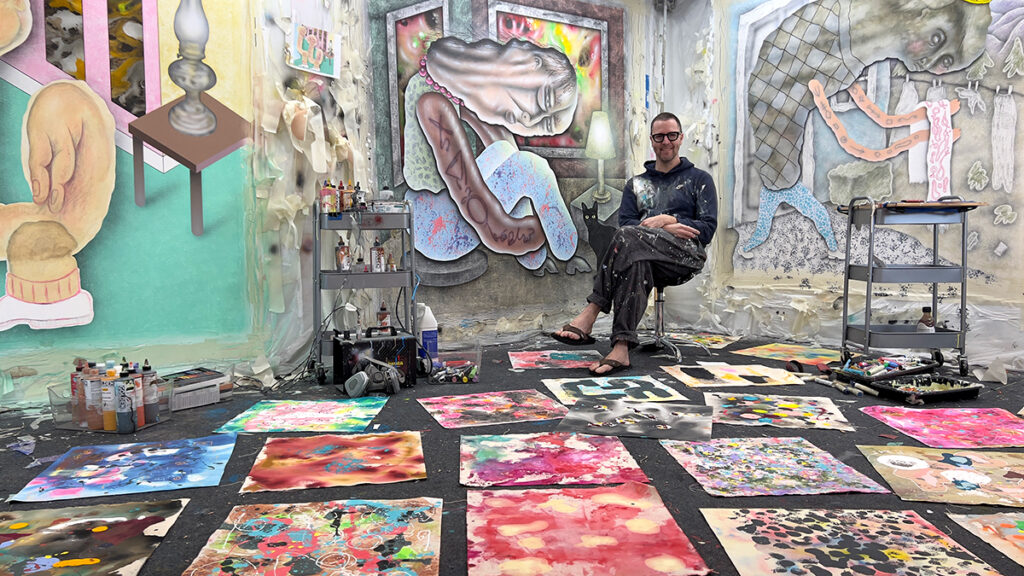 STATEMENT
Bijijoo's paintings result from process-driven experimentation with painting media and automatic drawing, using traditional and digital techniques. He builds mixed media layers to amplify interplays of light, color, and texture. Images are conjured from chaos, in a process akin to divination. The forms that take shape trend toward human and animal: grotesque exaggerations of life, monstrous cartoons, vanitas. Narratives emerge through these interactions, reflecting struggle, celebration, and introspection. The results depict experiences, interactions, and movements frozen in a personal space and time.
BIO
Bijijoo (given name: Michael Todd Horne; nickname/preferred name: B) was born in Atlanta, Georgia (USA) in 1975 and has lived in New York City; Seattle, Washington; and Eugene, Oregon. B currently resides in Portland, Oregon with his wife and daughter.

B has been painting and drawing since childhood. He has experimented with figurative, abstract and conceptual work in a variety of media, including writing, music and video (an archive of B's music from 1993-present can be found here). B diverged from art practice to pursue technical studies in mathematics, physics, computer science and chemistry, culminating in a Ph.D. in biophysics in 2008 (select scientific publications can be found here) and a career as a research scientist and then patent agent (most recently working in Nike's intellectual property department). He then returned to painting by creating several series of surrealist works, including The Presidential Ham, Celebrity Still Life, The Arthropod Companion, Demonstrations. After pausing to remodel an old house and become a father, he began resetting his painting practice in 2018. B's current work draws on his technical background in math, science and computer programming, as well as his daughter's imagination and love of monsters.

EDUCATION
Ph.D., Chemistry (Biophysics), Portland State University (2008)
Mathematics Graduate Studies, University of Washington (2000-2002)
Bachelor's degree, Mathematics, Physics, Computer Science, Hunter College (CCNY) (2000)
SELECTED EXHIBITIONS
March 16 – May 14, 2023: Solo Exhibition, Saatchi Yates, London
Oct. 2022: Solo Show, Lorin Gallery , Los Angeles
July 2022: Group Show, Artual Gallery, Beirut
June 2022: Solo Show, Villazan, Madrid
Feb. 2022: Group Show, Cohle Gallery , Paris, France
Dec. 2021: Solo Show, VINS Gallery, Taipei, Taiwan.
Nov 2021: Group Show, La Luz De Jesus Gallery (Los Angeles, CA)
Sept. 2021: D'Arte (group show), Marian Cramer Projects, Amsterdam, Netherlands.
May 2021: Duo show with Vickie Vainionpää , GR Gallery, New York, NY.
Sept. 2020: LIMBO (group show), Everyday Gallery, Antwerp, Belgium.
June 2013: Bugs, Holes, Heads, and How-tos (solo show), Good: A Gallery, Portland, OR.
April 2012: The Anthropod Companion (solo show), Antler Gallery, Portland, OR.
Feb. 2011: The Presidential Ham (solo show), The Basil Hallward Gallery, Portland, OR.
SELECTED PRESS
Bijijoo: Creatures Born from Chaos, Metal Magazine, May 2023
INTERVIEW: BIJIJOO BRINGS HIS VIRAL, OTHERWORLDLY WORLD OF MONSTERS TO SAATCHI YATES, Hypebae, March 2023
Inside the Weird and Wonderful World of Bijijoo, Creative Review, March 2023
TIKTOK SENSATION BIJIJOO TO OPEN SHOW AT SAATCHI YATES, Fad Magazine, March 2023
7 Questions for Bijijoo, the Artistic Polymath Whose Colorful, TikTok-Famous Works Make Their London Debut This Week, Artnet, March 2023
"Bijijoo is the ultimate creative maverick. His monsters get their surreal shapes and textures from the artist's playful approach to mixing media. His constant experimenting leads to innovative combinations of traditional and digital techniques. Bijijoo has had an uncontrollable artistic drive since childhood. He has experimented with most forms of art from writing and composing to shooting video. Eventually he returned to painting and found his creative signature after being inspired by his daughter's imagination and love for monsters. Using his technical background in mathematics, physics and computer science Bijijoo uses process-driven experimentation to endlessly create and combine new techniques." – Studio Visit with Avant Arte, Aug. 2022
"The paintings of BijiJoo are created by so many techniques and mediums that it is dizzying; a result of planning, experience, and a child-like playfulness that borders on a total loss of control." – Hi-Fructose Magazine (IG), May 2022
Party Monster Arrives: Bijijoo @ Vins Gallery, Taipei JUXTAPOZ, Jan. 2022
Manifest: BIJIJOO, Calvin Wong, Emily Casares, and Skyler Simpson, JUXTAPOZ, Nov. 2021
Digital Spirit: Bijijoo and Vickie Vainionpää @ GR Gallery, JUXTAPOZ, June 2021
"The painted inside out world of @bijijoo is strange, cartoon-y, and intestinal-y, or perhaps more like a sugar-crashing herniated eye ball. It all depends what you had for breakfast." – Hi-Fructose Magazine (IG), July 2020
The Art Out There, David Carmack Lewis, March 20, 2013
Hail to the Presidential Ham, Willamette Week, Feb. 2, 2011
15 Portraits of Presidents with Ham, Salon.com, Nov. 10, 2010
A Man, A Plan, Some Hams: Bijijoo?, Paste Magazine, July 14, 2010