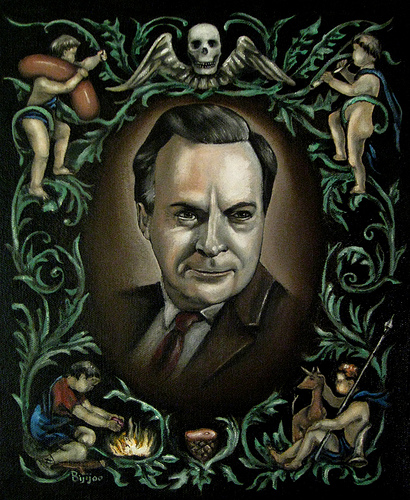 Portrait of Richard Feynman, Physicist
Richard Phillips Feynman (1918 – 1988) was an American physicist known for his work in the path integral formulation of quantum mechanics, the theory of quantum electrodynamics and the physics of the superfluidity of supercooled liquid helium, as well as in particle physics (he proposed the parton model). For his contributions to the development of quantum electrodynamics, Feynman, jointly with Julian Schwinger and Sin-Itiro Tomonaga, received the Nobel Prize in Physics in 1965. He developed a widely used pictorial representation scheme for the mathematical expressions governing the behavior of subatomic particles, which later became known as Feynman diagrams. During his lifetime, Feynman became one of the best-known scientists in the world.
The Feynman Lectures on Physics (a three-volume physics textbook published in 1964) makes for excellent reading on basic physical theories.  The textbook is based on lectures given by Feynman to undergraduate students at the California Institute of Technology (Caltech) in 1961–63. It includes lectures on mathematics, electromagnetism, Newtonian physics, quantum physics, and even the relation of physics to other sciences. Six readily accessible chapters were later compiled into a book entitled Six Easy Pieces: Essentials of Physics Explained by Its Most Brilliant Teacher, and six more in Six Not So Easy Pieces: Einstein's Relativity, Symmetry and Space-Time.